AI images can be easily generated on your Mac with silicon chip thanks to Stable Diffusion. There are several one-click installers available.
While AI image generators like Midjourney or DALL-E 2 are only available as paid online offerings, Stable Diffusion offers a freely available open-source model with no content restrictions. Anyone can download the code and - assuming sufficient GPU power - generate images on their computer.
You don't have to be a coding professional to do this: The community has created various one-click installers that let you run Stable Diffusion on your computer in a matter of minutes.
This way, image generation doesn't cost credits at web services like DreamStudio, but can be done locally for free (apart from your electricity costs, of course). Plus, there's no need to connect to the Internet - the programs work offline once the training database is downloaded.
Stable Diffusion works smoothly on a laptop, although the process takes more time. Apple MacBooks with silicon processors are predestined for this kind of work. The M1, M1 Pro, M1 Max and M2 have the so-called Neural Engine. You should also have at least 16 gigabytes of RAM.
CHARL-E
first one-click installer
hardly any configuration options
only text to image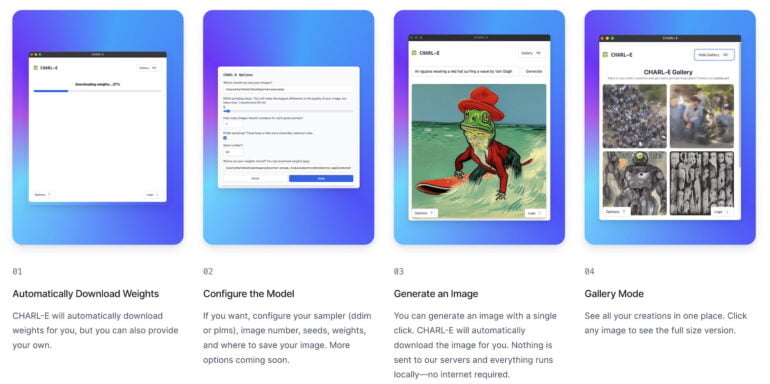 CHARL-E by Charlie Holtz was the first solution that offered Stable Diffusion as a simple installation package. Unfortunately, not much has been done to the software since the first release. Accordingly, the feature set is limited.
After installation, only a few settings options are available. You can set the number of steps (they significantly affect the quality of the result) and a seed. However, the resolution or the number of images cannot be set. At least a gallery of the created images is on board.
DiffusionBee
extensive settings for Text to Image
Image to Image and gallery available
should also be available for Intel-Macs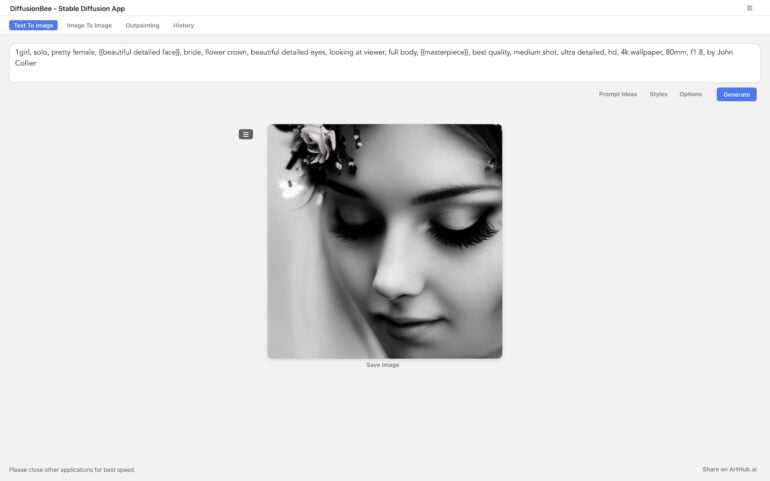 DiffusionBee is a much more comprehensive alternative to using Stable Diffusion on a Silicon MacBook. The program converts text input into images, with the ability to set steps, guide, seed, resolution and count (between one and 100). Predefined settings for different styles are also included.
In addition to Text to Image, the hobby project of meta developer Divam Gupta also supports Image to Image, i.e., you can feed your own images into the system and use them as a basis for new creations, change them via text prompts.
An image gallery shows all images created so far. Gupta also wants to integrate a function for so-called outpainting, in which images are extended beyond their frame. He is also working on a version for Macs with Intel processors.
Introducing a new version of DiffusionBee - Stable Diffusion app on Mac with all cutting-edge features.

- Easy to use and install
- Runs locally
- Runs much faster now

Supports Text-to-image, Image-to-image, in-painting, out-painting, advanced options.https://t.co/N3KwWR9Own pic.twitter.com/qbwwWVN60c

— Divam Gupta (@divamgupta) November 3, 2022
Roll Art Die
only Text to Image, but some settings available
available in the Mac App Store
Automatically scale images up to six times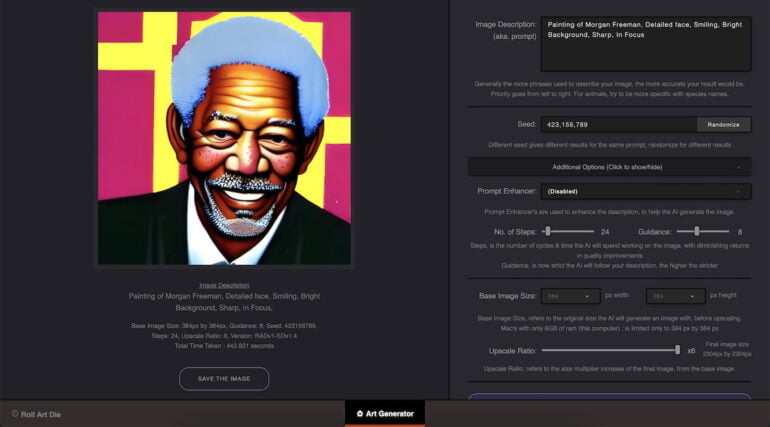 Roll Art Die is effortless to install via the App Store. However, the download of around twelve gigabytes is significantly larger than the four gigabytes that DiffusionBee and CHARL-E take up. The image generation can be adjusted via Seed, Steps, Guidance and Resolution.
A "prompt enhancer" is supposed to enhance your input automatically via AI, but can be disabled. The program can automatically enlarge your images by a factor of 6.
Ad
Join our community
Join the DECODER community on Discord, Reddit or Twitter - we can't wait to meet you.
Ad
Join our community
Join the DECODER community on Discord, Reddit or Twitter - we can't wait to meet you.