A teenager claims on Reddit that he writes school essays for himself and his classmates with the support of GPT-3 - collecting A's and earning money.
First, the post is published anonymously in the OpenAI subreddit. So, it's difficult to verify whether the story is true. Nevertheless, I'm reporting it because I think it's plausible, and that's the real insight.
Using GPT-3 to get better grades in school
"I feel a little guilty about it, but I don't really care that much anymore," writes the student, whose name is "Kevin" according to his profile information. He was born in 2005 and lives in Norway. He had been experimenting with GPT-3 for some time, he says, before deciding to test the system for school assignments.
"For a couple of weeks, I have made $100 profit by 'doing' homework for other classmates and now I am looked at as a genius," writes Kevin, who says he even uses GPT-3 as a writing aid for some of his Reddit posts.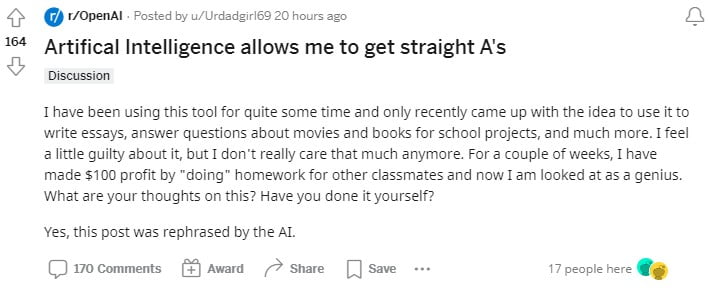 The student does not completely automate his homework with GPT-3: "I verify if everything is correct, and rephrase the text and shape it the way I want it. It kind of just boosts me and I finish my homework more quickly."
He also says the AI helps him discover new ways of writing and words he wouldn't have used without AI support.
"I learn a lot from just reading and editing the things that the AI writes. It's not like I just put in a prompt and paste the results in a Word document," Kevin writes.
As the conversation continues, the student gives an example of an AI-written essay. He uses OpenAI's GPT-3 DaVinchi model for it via the Playground user interface.
The biological perspective in psychology is the study of the mind and behavior from a biological standpoint. This perspective emphasizes the role of the nervous system, genes, and hormones in behavior and mental processes. Researchers who take a biological perspective often study the structure and function of the brain, as well as the effects of drugs and other chemicals on the brain and behavior.
The biological perspective has helped researchers to better understand mental disorders and to develop treatments for them. For example, the biological perspective has led to the development of medications that can help to regulate the brain chemistry of people with mental disorders. In addition, this perspective has contributed to our understanding of the role of genetics in mental disorders.
Overall, the biological perspective has provided valuable insights into the mind and behavior. This perspective has helped us to better understand mental disorders and to develop treatments for them.
A study on GPT-3 supports the story of the Reddit account
The story confirms a February 2021 study in which a U.S. website specializing in education (then called EduRef) had essays from GPT-3, anonymized essays from students, and freelance writers evaluated by professors.
The texts from GPT-3 were slightly edited. In addition, the better of two versions was submitted. Facts and grammar remained unchanged.
The result: The AI texts passed the test and were rated similarly to the texts written by humans, some better, some worse.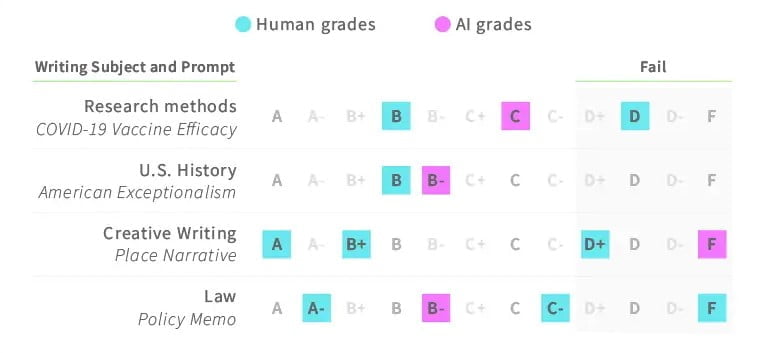 Only in creative writing did the AI fail, lacking consistency in its story according to the professor's judgment. This lack of consistency is a well-known problem in AI text and image generators that has not yet been solved despite major advances in machine attention through transformer architectures.
Ad
Join our community
Join the DECODER community on Discord, Reddit or Twitter - we can't wait to meet you.
Ad
Join our community
Join the DECODER community on Discord, Reddit or Twitter - we can't wait to meet you.