In recent years, Fifa has been testing an AI-based movement tracking system for individual players. This is now to be used at the 2022 World Cup in Qatar to detect offsides more quickly.
Offside or not? When it comes to this question, referee decisions have regularly caused scandals in the past. The new video review system introduced a few years ago was supposed to make this decision fairer by reducing the error rate. It also succeeds, but too often at the price of euphoria.
AI-supported tracking system could speed up offside decisions
Often, fans don't even cheer properly anymore when a goal is scored from an offside-suspicious position - because they know that a lengthy review by the video referee will follow. Some people criticize this so much that they wish the old rules would be reinstated - despite the many wrong decisions.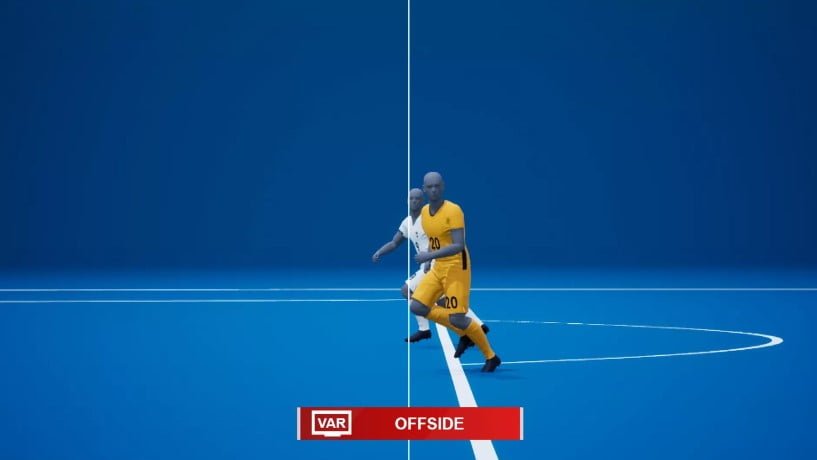 Since around the beginning of 2020, Fifa has been testing an AI-powered offside tracking system to solve both problems at the World Cup in Qatar: Accurate and fast offside decisions in, if possible, 100 percent of all cases. According to Fifa, the system has been in development for about three years.
Twelve cameras record every movement of the players
To ensure correct offside decisions during the 2022 World Cup in Qatar, Fifa is going to considerable expense. Twelve tracking cameras in the stadium record and follow 29 data points on the players' bodies (see cover picture) at a frequency of 50 frames per second. There is also a sensor in the match ball that transmits its position 500 times per second.
In case of a possible offside position, the tracking system alerts the referee team, which makes the final decision. If it confirms the offside position, the system automatically creates a 3D animation and shows it to the stadium spectators on the stadium screen.
This "semi-automatic offside detection," as Fifa calls the system, will be able to make the offside decision "faster and more accurately" than humans within a few seconds - even if the final decision remains with the human referee team.
"I know that someone called it 'robot offside'; it's not. The referees and the assistant referees are still responsible for the decision on the field of play," said Pierluigi Collina, chairman of the FIFA Referees Committee.
Ad
Join our community
Join the DECODER community on Discord, Reddit or Twitter - we can't wait to meet you.
Ad
Join our community
Join the DECODER community on Discord, Reddit or Twitter - we can't wait to meet you.