With its new AI Stack, Qualcomm aims to simplify AI development on its hardware across devices – from XR devices to cars.
In its AI Stack, Qualcomm combines various individual AI solutions into one stack. The chip company hopes to standardize AI development on its hardware and simplify the use of individual AI models for different devices.
Develop once, deploy everywhere
Qualcomm says a company can train an AI model for a vertical scenario such as image analysis using a smartphone. Thanks to the AI stack, it can then deploy that model in other areas that use AI image analysis but different Qualcomm hardware – for example, in a car or a headset. Qualcomm also offers an SDK for XR applications with Snapdragon Spaces.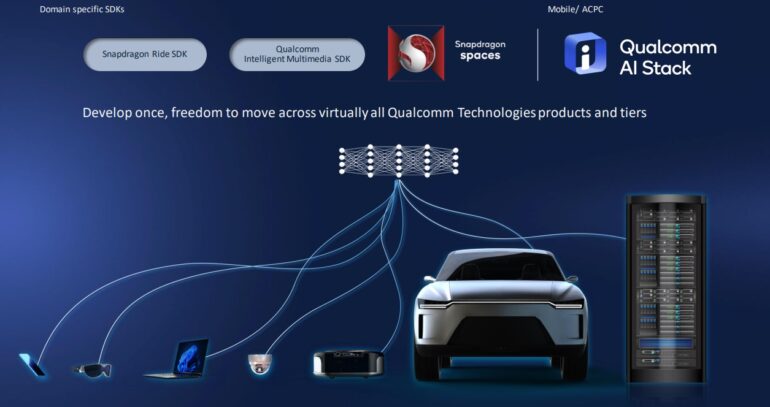 "OEMs and developers now will have the ability to develop and optimize AI models using the Qualcomm AI Stack once, then move the same model across different Qualcomm Technologies products and tiers for a true 'develop once, deploy anywhere' model that helps OEMs and developers save time and resources," Qualcomm writes.
More direct hardware access with AI Engine Direct
Qualcomm's AI Stack supports common AI frameworks such as TensorFlow, PyTorch and ONNX. In addition, Qualcomm offers an "AI Engine Direct" mode, which is intended to give developers more direct access to the special AI capabilities of Qualcomm chips. AI Engine Direct supports operating systems such as Android, Windows, Linux and QNX for the automotive industry.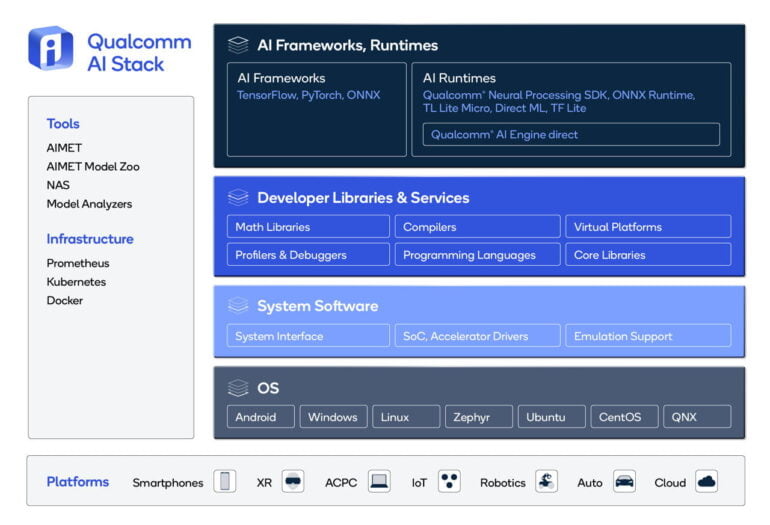 "For the first time, a single AI software portfolio works across Qualcomm Technologies-powered devices, spanning the wide range of Connected Intelligent Edge products – including mobile, automotive, XR, compute, IoT, and cloud platforms," Qualcomm writes.
Qualcomm's AI Stack is available now. For more information, visit the official product page.
Ad
Join our community
Join the DECODER community on Discord, Reddit or Twitter - we can't wait to meet you.