An experiment shows that DALL-E 2 can credibly adopt and continue the style of historical artists - even within their works.
OpenAI's image AI DALL-E 2 is primarily known for its ability as a text-to-image generator: DALL-E 2 can generate believable images in many styles from simple and more complex sentences. Admittedly, the system has not yet mastered some concepts. Still, its image generation from words is the most impressive capability. But it offers even more.
DALL-E 2 can modify or extend existing images
Already at the introduction of DALL-E 2, OpenAI showed that the system can also edit or extend existing images via text control. What is special about this is that the AI inserts newly added image elements in the style of the original and can even distinguish between different image segments such as foreground and background.
AI artist Denis Shiryaev and colleagues have now taken advantage of this ability of DALL-E 2 to have the AI augment famous portraits and paintings by artists such as Leonardo da Vinci, Vasily Vereshchagin and Johannes Vermeer. For example, the Mona Lisa now sits in a forest, kneels in a clearing, or stands in a pond.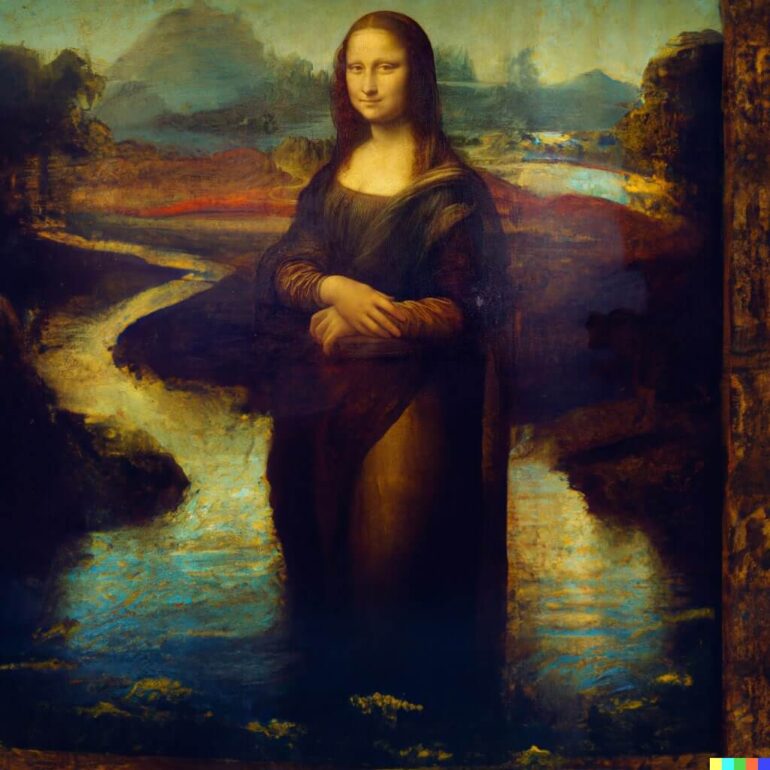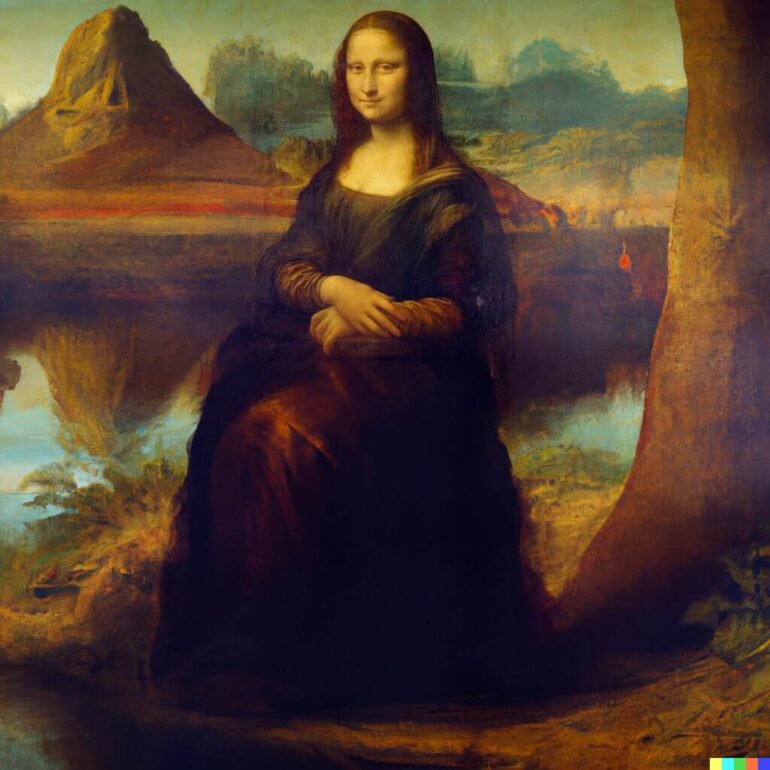 A Reddit user had already demonstrated the "Uncrop" function of DALL-E-2 before Shiryaev using the Mona Lisa. He combined several generated images to create a particularly detailed, extensive panorama.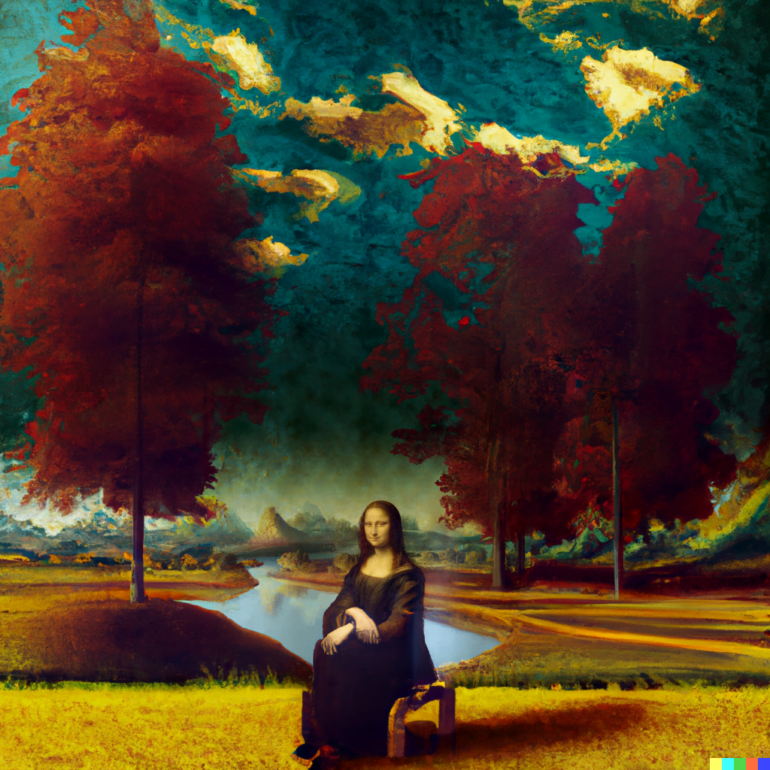 Shiryaev also enlarged the most famous painting of Jan Vermeers, "Girl with the Pearl Earring". In the original you can see only her face and upper body up to the shoulders against a dark background.
DALL-E 2, however, paints the young lady with the pretty earrings in rooms with various furnishings. The AI complements the rest of the body as well as the room including utensils like a make-up mirror.
"It looks like AI was superb in dealing with it (except hands, hands are complicated even for humans, I can't draw hands too for example)," Shiryaev writes.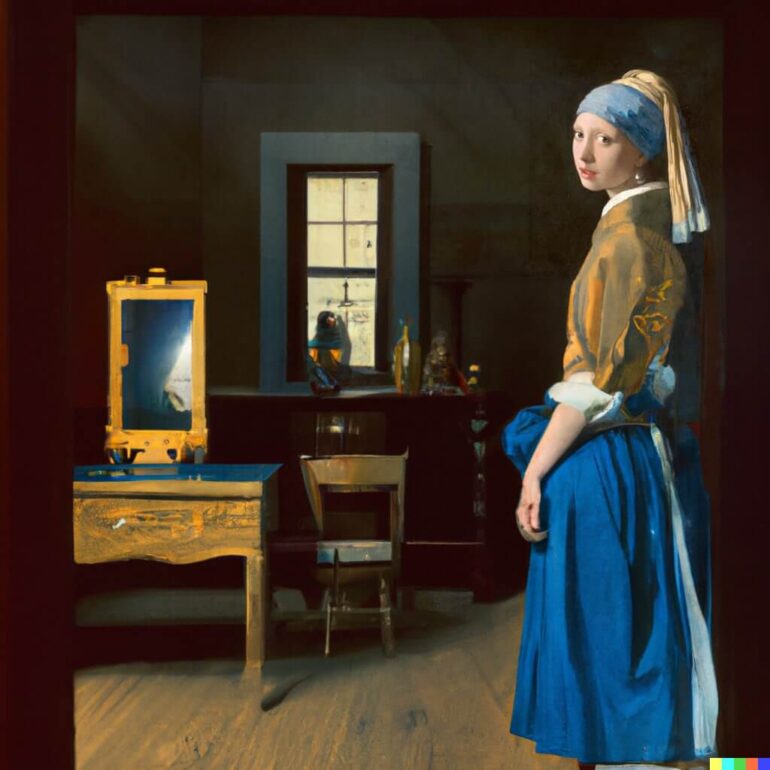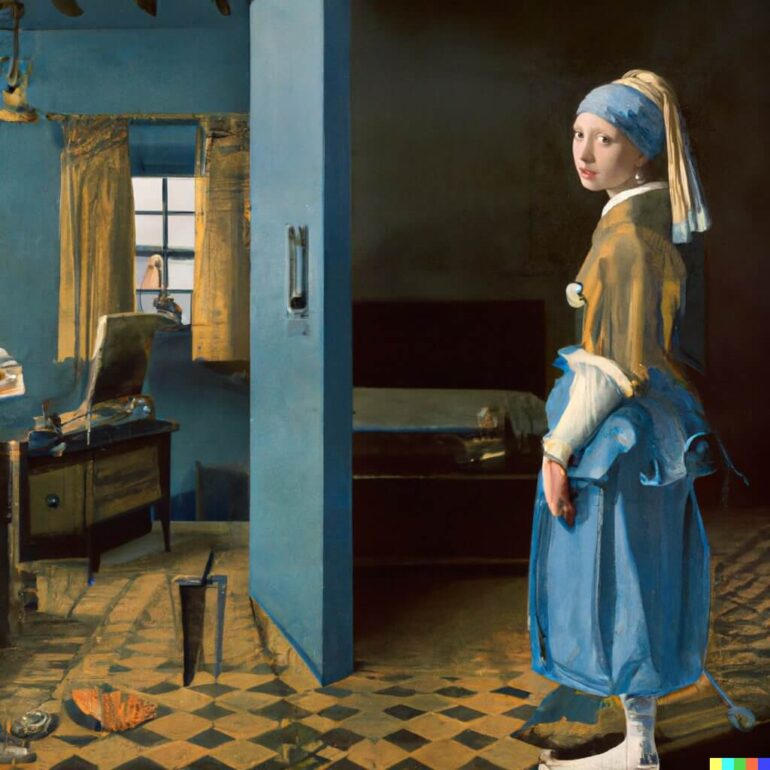 Shiryaev acknowledges that some image enhancements have clearly visible glitches. However, these could be reduced by simply generating more images and then selecting the best ones. The images presented now were created within two minutes, according to Shiryaev.
"Hacking art as a concept"
Working with AI enthusiast "monkeyinlaw," Shiryaev expanded on several other famous paintings. "It was a fantastic small experiment, which I personally will remember as '2022 will be a year when humanity has hacked art as a conception'; even if those results do not bring much value to the art world, they still look interesting and inspirational," Shiryaev concludes.
His idea of involving AI in historical art is not new. An AI system faithfully completed Rembrandt's cropped work "The Night Watch" last year. However, the people involved trained a neural network to do so specifically with 528 high-resolution individual photographs and other data from this one painting and artist. The project was in the works for about two years.
The giant DALL-E model, on the other hand, completes such a picture, though probably less accurately, by using a single example for many styles. This again shows the potential of giant AI models.
You can find more AI uncropped art here.
Ad
Join our community
Join the DECODER community on Discord, Reddit or Twitter - we can't wait to meet you.
Ad
Join our community
Join the DECODER community on Discord, Reddit or Twitter - we can't wait to meet you.