Artificial intelligence assists in the creation of texts in different languages, images, and audio. With four WordPress plugins, content creation can be accelerated and automated directly in the CMS.
The current advancements in the field of AI are particularly remarkable because they are directly relevant to everyday life. You don't need a supercomputer to adapt generative AI for your use case.
In some cases, powerful AI systems are accessible via a web interface, but some software can also be accessed via an application programming interface (API). This is when tools like GPT-3 or Stable Diffusion reach their full potential, because they can be combined with other software like WordPress.
WordPress is the most popular content management system (CMS), with a global market share of over 60 percent. The software was originally intended for blogs and still sees that as its main focus today.
However, thanks to an extensive ecosystem of plugins, it can be extended to numerous other areas of application. Thus, in addition to bloggers, many website operators also benefit from AI plugins that can generate automatic content directly in WordPress.
AI Mojo: Generate texts with AI directly in WordPress
Hardly any website functions without text. AI technology is so advanced that it can generate readable texts in German as well as in English and various other languages with little effort.
A well-known text generator is GPT-3 from OpenAI, which can be used via web interface on the official website and via API. This lays the foundation for tools like AI Mojo.
The plugin can be installed for free via the official WordPress directory. However, using GPT-3 incurs costs that are billed via an individual API key. OpenAI charges for the tokens used, and there is no flat rate yet.
How much a token costs depends on the particular engine you feed into GPT-3. The currently most powerful version "davinci" costs two US cents for 1000 tokens. Prices are per 1,000 tokens. You can consider tokens parts of words, where 1,000 tokens are equivalent to about 750 words.
A single generation process with GPT-3 can only consume 2,048 tokens at once. So you can't write complete texts with the push of a button.
But GPT-3 can also support the structure of a post, landing page or product text with appropriate commands. Thanks to Natural Language Processing (NLP), text instructions can be formulated as naturally as if you were giving an instruction to a human. However, several attempts are sometimes necessary until a prompt brings the desired result.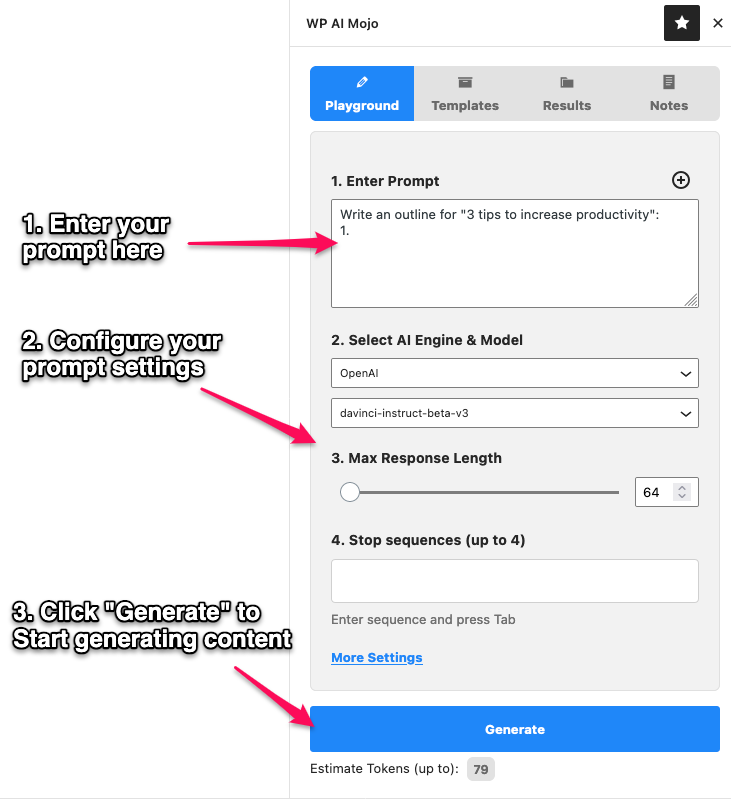 After the prompt, you select the preferred text editor, besides GPT-3 AI Mojo also supports Jurassic-1, via a slider the maximum number of tokens for the text generation and if required so-called stop sequences. These tell the model under which conditions it should end a sentence. After a few seconds, the text is generated and can be inserted directly into the editor.
Block Diffusion: Generate images with AI directly in WordPress
As an open-source alternative, Stable Diffusion by StabilityAI gives serious competition to commercial image AI providers like DALL-E 2 and Midjourney. Like GPT-3, Stable Diffusion can be controlled with an API, enabling plugins like Block Diffusion (demo on the official website).
Ad
Join our community
Join the DECODER community on Discord, Reddit or Twitter - we can't wait to meet you.
Ad
Join our community
Join the DECODER community on Discord, Reddit or Twitter - we can't wait to meet you.
The plugin provides a simple interface for generating AI images, which then automatically end up in the WordPress media library.
Unlike OpenAI, there is no official API for Stable Diffusion. A paid solution comes from third-party provider Replicate. Here, too, the costs depend on the usage. According to the developer, however, the plugin itself is and remains free of charge.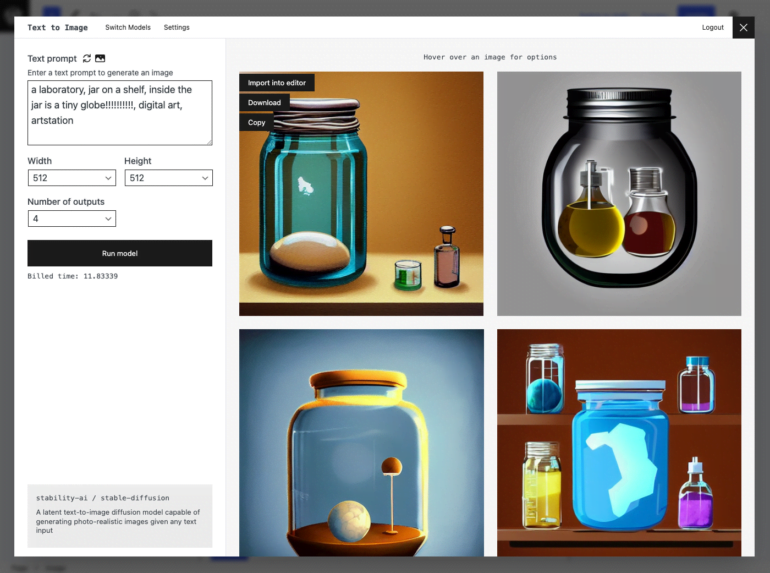 So far, the range of functions is still relatively limited. Even though the images already look pretty impressive, there are still more ideas that will be implemented at a later date, according to the developer.
These include the injection of custom images to create a higher consistency in the image output, for example in image series or a given design. Stable Diffusion can also help with reconstructing faces. Finally, the developer is considering short animations by stitching together multiple AI-generated images.
Block Diffusion requires only two pieces of information to create an image: Your prompt and the dimensions, which are specified in pixels via a drop-down menu. The maximum resolution is 1,024 x 1,024 pixels.
Play.ht: Dubbing texts as podcasts with AI
Some texts are also suitable as podcasts. An AI-based service like Play.ht helps dub written into spoken language in more than 55 languages and with more than 260 voices.
Play.ht provides a WordPress plugin for this purpose, which can convert individual posts into audio form. It then creates an RSS feed that can be used to feed iTunes, Google Podcasts, and Spotify, for example. Tools for analyzing the published episodes are also included.
Subscriptions are tiered by the number of words to be read and start at $19 per month. After installation, 100 words are available for a free trial.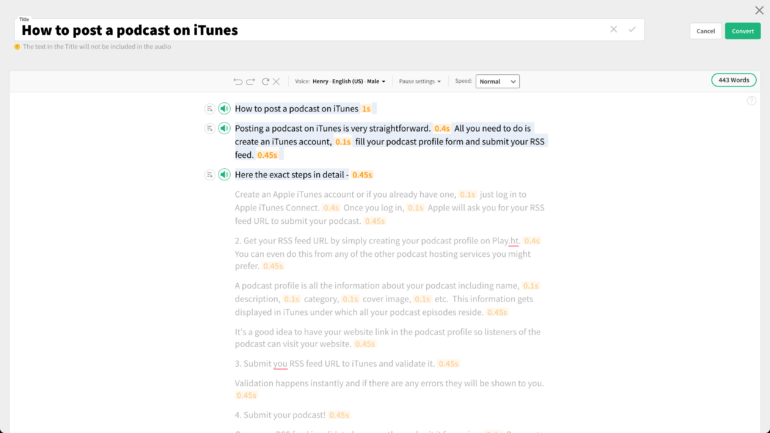 DeepL: almost flawless automatic translations for WordPress
The world of AI-generated content has gained tremendous speed and scale recently. One field where AI has been successfully assisting humans for years is almost forgotten: machine translation. DeepL is the best alternative to Google Translate from the Cologne-based company of the same name.
The software, which is also available via web interface or desktop application, scores with excellent results that require little human rework. We also use the DeepL API for machine translations between English and German.
In total, DeepL supports 29 languages, which can be integrated into WordPress via an API using various plugins such as Loco Translate or TranslatePress. The API is available free of charge for up to 500,000 characters per month. Your WordPress site is ready for an international audience with little effort thanks to DeepL.