Nyonic is a new AI startup founded by German AI veterans and a former OpenAI researcher. The company aims to develop foundation models tailored to the needs of European industry.
With the founding of Nyonic, the German capital Berlin is strengthening its presence in the global AI scene. The start-up wants to develop generative AI foundation models that are geared to the needs of European industry, take into account European ethical and legal frameworks, and differ from the predominantly end-customer-oriented models of American providers. Nyonic is not alone: Heidelberg-based Aleph Alpha is pursuing a similar goal.
Founders include OpenAI veteran
The founding team consists of five leading personalities of the German AI scene. Nyonic will be led by two CEOs instead of one: Vanessa Cann (top center), CEO of the German AI Association, is giving up her position there to take over the European business. The global business is in the hands of AI researcher and serial entrepreneur Han Dong (above left).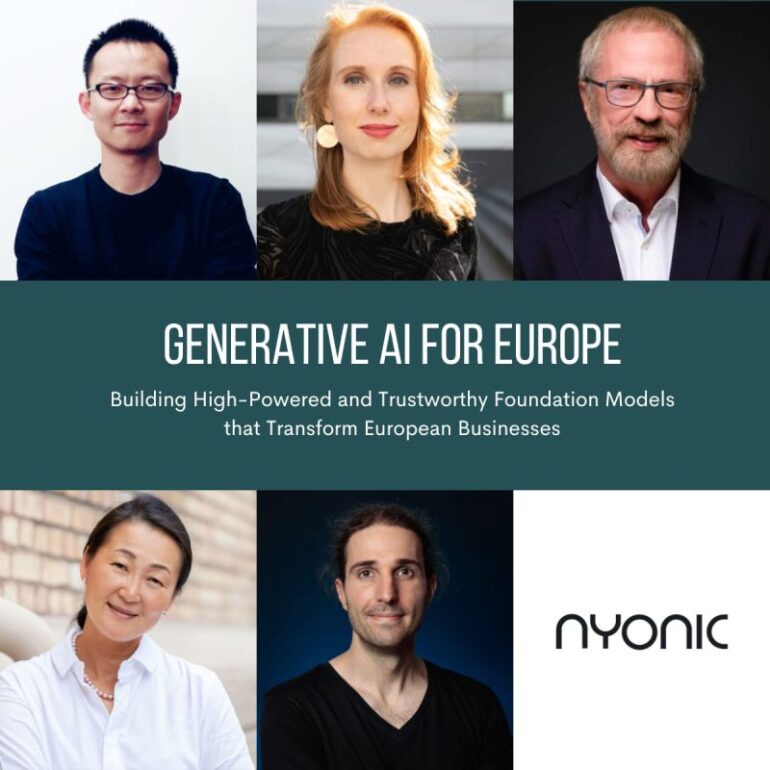 Feiyu Xu (below left), still responsible for global AI development at SAP, will join Nyonic as chief innovation officer in October 2023. Technical development will be led by Johannes Otterbach (bottom center), who currently leads the AI unit at Merantix Momentum, was at Palantir, and OpenAI, where he played a key role in developing and rolling out the OpenAI API. According to Nyonic Otterbach is "among the few experts in the world with a comprehensive understanding of the technology behind GPT-3." Finally, Hans Uszkoreit (above right), a 35-year veteran of the German Research Center for Artificial Intelligence, is on board as chief scientist.
First AI model planned for early 2024
Nyonic plans to begin training a large-scale language model in a timely manner. Training is expected to begin in the third quarter of 2023, with release expected in the first quarter of 2024. For training, Nyonic said it is using the computing capacity of commercial providers available in Europe.
I'm astounded by the potential of Large Language Models (LLMs) since I've experienced their creation firsthand. The new wave of Generative AI will fundamentally change the way we interact with and use technology. At nyonic we want to ensure that Europe stays competitve and establish it as a global leader in developing foundation models. We aim to cater specifically to European industries and our multilingual and multicultural societies.

Johannes Otterbach, CTO
Europe's AI Act will introduce strong regulations
The startup will differentiate itself from other companies by focusing on a European approach. The overall goal is to strengthen European sovereignty and reduce dependence on a few US providers, Nyonic said. Doing AI in the context of European legislation is difficult, especially with existing strong regulations in the areas of copyright and data protection, and more on the way for AI.
Despite this, or perhaps because of it, it seems possible to strengthen the European AI industry with foundation models made in Europe, while the use of Google's AI Bard is not yet possible and OpenAI even threatens to pull out of Europe.
Ad
Join our community
Join the DECODER community on Discord, Reddit or Twitter - we can't wait to meet you.
Ad
Join our community
Join the DECODER community on Discord, Reddit or Twitter - we can't wait to meet you.