In Paris, Google is showing the Bard chatbot and large language models for Google Search. Other generative AI models, such as for images, are to follow.
Yesterday, Microsoft announced a new AI-powered version of Bing and a co-pilot for Edge based on new AI models from OpenAI. Less than 24 hours later, Google responded with its own AI-based chat search.
In a presentation broadcast from Paris, Prabhakar Raghavan, Google's senior vice president in charge of Google Search, highlighted the many improvements the company has made since the launch of Google Search nearly 25 years ago. Advances in artificial intelligence have enabled better language understanding and multimodal search, such as Google Lens, as well as automatic translation into more than 100 languages with Translate.
Google Bard and generative AI for Google Search
The LaMDA language model will soon be rolled out as the experimental AI chatbot Bard, with the first "trusted testers" getting access to the chatbot this week. As announced when Bard was unveiled, Google is initially relying on a small LaMDA model to help scale testing. Beyond Bard, generative AI models for text will soon be used in Google Search. In this way, the company aims to provide better answers to questions for which there is no single fact-based answer.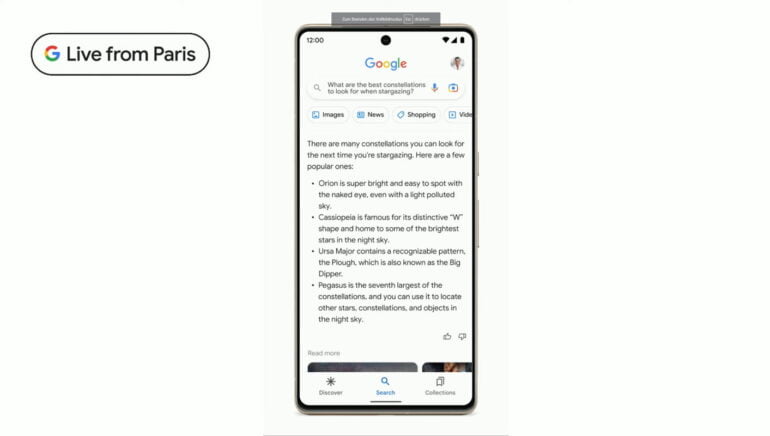 The Google VP also addressed concerns from publishers and content creators that the use of AI-generated answers in Google Search could harm them. "As we scale these new generative AI features, we continue to prioritize approaches that will allow us to send valuable traffic to a wide range of creators and support a healthy open web," Prabhakar said. The company is not revealing exactly what those approaches are. Noticeable in the examples: Unlike Microsoft's examples, Google's AI-generated text does not cite sources directly in the text.
In addition to Bard and generative AI for Google Search, the company also announced multimodal search via Google Lens ("Multisearch") and improvements to Google Maps.
LaMDA API and access to Google's image models announced
Chatbots and generative text AI are just the beginning of the potential of artificial intelligence. For example, generative AI could be used to create 3D models from just a few images or to see your own kitchen cabinets in new colors. Thanks to generative AI, Google says that in the future, your imagination will be the only limit to what you can search for.
Prabhakar confirmed that Google will give the first customers access to LaMDA via API next month. Other models will follow, including those for large image models. Google has not yet revealed any details.
Ad
Join our community
Join the DECODER community on Discord, Reddit or Twitter - we can't wait to meet you.