About two months after the launch of ChatGPT, Google responds to its massive success. Google CEO Sundar Pichai introduces the AI chatbot "Bard" and more.
Like ChatGPT, Bard is an AI optimized for conversation. It is based on Google's LaMDA language model family, which was first introduced in May 2021. However, unlike ChatGPT, Bard can access the Internet and reference current information and use it for replies. Bard is now available to "trusted external testers".
According to Pichai, feedback from external testers will be used to improve the system to meet Google's "high standards of quality, security and integrity. Availability will be gradually expanded in the coming weeks. "It's early, we'll launch, iterate and improve," Pichai writes.
The reliance on LaMDA, Pichai said, is happening initially because it is a relatively small and lightweight model that can better scale to get more feedback faster.
Google integrates AI results into search
As expected, Google is also using text-generating AI to expand its so-called zero-click search. These are queries that are answered directly in the search engine without having to click on a web page.
These so-called "AI features" are coming soon to Google Search. The new feature is designed to "distill complex information and multiple perspectives into easy-to-digest formats" so that users can "quickly understand the big picture and learn more from the web," Pichai writes.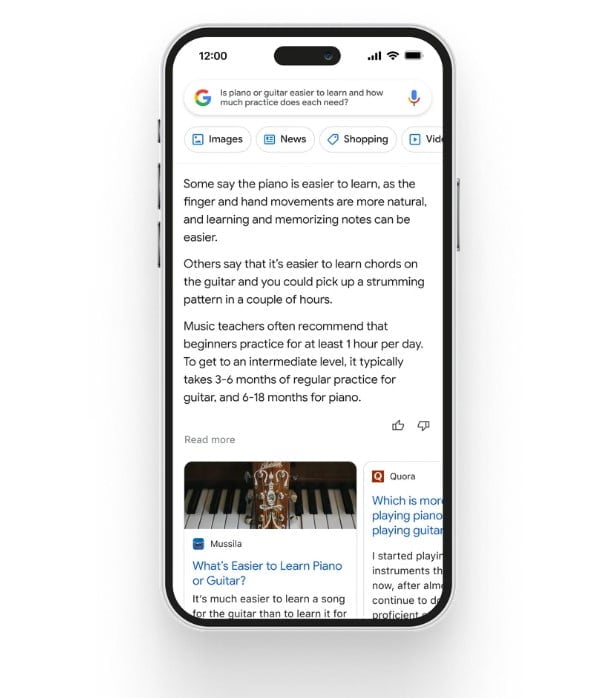 For publishers, such AI features could have far-reaching consequences, reducing traffic to sites and resulting in lost revenue. Google's zero-click results are already controversial, but at least they still point to a website at the source.
API access to Google's generative language models
For developers, Google will soon offer an API for generative language AI. The API will initially be available for LaMDA and will later integrate other language models. In addition to LaMDA and others, Google offers the powerful PaLM language model. Experiments show that PaLM can be easily optimized for specific domains such as medicine. Google could market such specialized language models that offer higher reliability within their domain.
Bard, API and AI features in Google Search are "just the beginning" of Google's AI offensive, according to Pichai. "More to come in all of these areas in the weeks and months ahead," Pichai writes, emphasizing that the search company intends to be "bold and responsible".
Ad
Join our community
Join the DECODER community on Discord, Reddit or Twitter - we can't wait to meet you.