Graphcore's latest AI chip is the world's first wafer-on-wafer processor and is expected to lay the foundation for a new generation of supercomputers.
Founded in 2016, British chipmaker Graphcore produces artificial intelligence chips and builds them into its systems, which the company markets as direct competitors to Nvidia's DGX systems. In December, Graphcore announced it had beaten Nvidia in AI benchmarks for the first time. However, Nvidia continues to deliver the highest per-chip performance.
Now Graphcore is introducing the new generation of its AI chips and systems: The Bow IPU replaces the previously installed Mk2 GC200 IPU processors and is said to deliver up to 40 percent higher performance with 16 percent better energy efficiency.
As a result, the Bow-POD256 is said to deliver more than 89 petaFLOPS of AI computing power, while the largest system, Bow-POD1024, offers 350 petaFLOPS of AI computing power. The new systems replace their predecessors at the same price.
Graphcore's chip relies on TSMC's wafer-on-wafer technology
The Bow IPU is the world's first wafer-on-wafer processor to rely on TSMC's new wafer-on-wafer 3D technology. The Taiwanese chip giant developed it in cooperation with Graphcore. 3D semiconductor technology enables new chip architectures and is being developed or already used in different variants.
The wafer-on-wafer process in the Bow IPU combines two wafers to create a new 3D die: one wafer for AI processing, architecturally similar to the old GC200 processor, and a second wafer with a power supply die.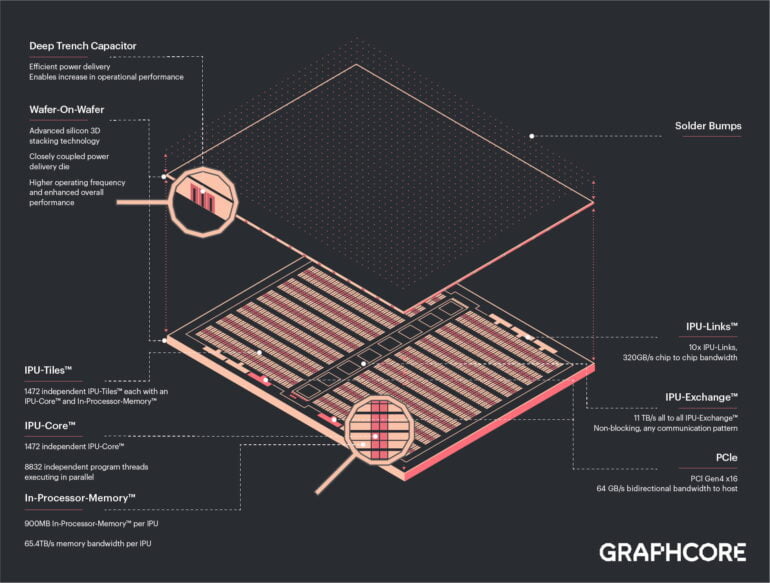 By adding deep trench capacitors in the power supply die, right next to the compute cores and memory, the company says the power supply is much more efficient, enabling higher performance and better energy efficiency. The technology is expected to be further developed for the next generation of chips, which are already in development, and could then enable IPU cores for the second wafer layer.
Graphcore plans its own supercomputer
This next generation of Graphcore's chips is to be used, among other things, in the "Good Computer," a supercomputer also announced by the company. The computer is named after computer scientist Jack Good, who Graphcore says was the first researcher to describe a machine that would surpass the capabilities of our brains in a 1965 paper.
The company aims to deliver the Good computer by 2024, the first "ultra-intelligence AI computer" that will enable AI model sizes of up to 500 trillion parameters. The supercomputer is expected to cost around $120 million per unit. It will offer ten exa-flops for AI floating point calculations and up to 4 petabytes of memory with a bandwidth of more than ten petabytes/second.
Ad
Join our community
Join the DECODER community on Discord, Reddit or Twitter - we can't wait to meet you.
Ad
Join our community
Join the DECODER community on Discord, Reddit or Twitter - we can't wait to meet you.
Read more about Artificial Intelligence: