German AI startup Aleph Alpha is launching one of the most powerful AI data centers in the world. It will help develop AI solutions for government institutions.

The U.S. leadership in AI research and development is driven by large tech companies based there, such as Microsoft, Google, Nvidia, OpenAI, Meta, and Amazon. These companies employ hundreds of AI experts and collaborate with academic researchers worldwide.
A key motivator of these collaborations, in addition to research funding, is access to the companies' massive data centers. Companies like Google, Meta and Nvidia operate high-performance computing centers that are at the forefront of the fastest AI supercomputers in the world.
AI infrastructure for European sovereignty
In the U.S. and China, industrial-scale data centers are central to the development of large-scale AI models such as OpenAI's GPT-3, DALL-E 2, Meta's OPT, Google's LaMDA, or Imagen. Deepmind's AI successes with AlphaZero or AlphaFold 2 would also have been impossible without access to Alphabet's data centers - and the trend is toward even bigger models, even more data, and even more computing power.
Europe lacks such industrially operated centers: Traditionally, European countries have relied more on public initiatives, such as the EuroHPC-JU partnership, which leverages resources from the European Union, national member states, and private companies to build supercomputers in Europe.
Stakeholders such as the German AI Association nevertheless warn that Europe is becoming dependent on AI solutions from the U.S. and call for the development of European AI models and infrastructure.
Aleph Alpha launches the fastest commercial AI data center in Europe
Founded in 2019, Heidelberg-based AI startup Aleph Alpha takes a similar view and aims to be the leading European company in researching and developing strong next-generation AI. The aim is to establish the EU as a decisive player in the field of AI and secure its digital sovereignty.
Aleph Alpha is billed as a European OpenAI competitor and operates Luminous, the largest European AI language model. The startup is also involved in the publicly funded Open GPT-X project and in June announced a stronger collaboration with UK chipmaker Graphcore.
Now, Aleph Alpha is taking the next step in becoming the most important AI company in Germany by opening alpha ONE, the most powerful commercial AI data center in Europe, at GovTech Campus Germany.
Alpha ONE targets a sovereign AI value chain
Alpha ONE forms the first infrastructure core for GovTech Campus Germany's "AI for Government" program. The German government opened the campus in 2022, which aims to make relevant digital technologies and solutions usable and scalable for application in government and administration.
The specific goal of the program is to create an AI innovation center where the federal, state, and local governments can develop and test concrete use cases together with AI startups from the GovTech scene.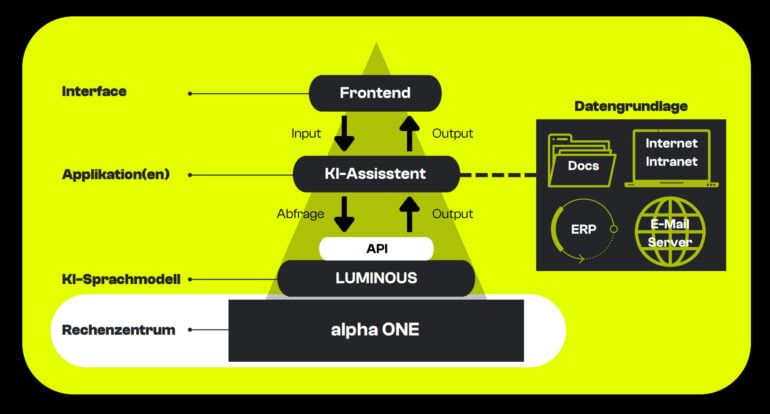 "With alpha ONE, we can close the AI infrastructure gap with a sovereign approach at the GovTech Campus for our members from the federal, state, and local governments, work on concrete solutions and enable accompaniment by civil society. This can be a real game changer for the digitization of the public sector," says Lars Zimmermann, Co-Founder, and Member of the Board of GovTech Campus Germany.
Alpha ONE ranked 72nd among the top 500 supercomputers
Alpha ONE relies on a total of 512 Nvidia HGX A100 80 gigabyte GPUs in 64 servers connected by InfiniBand and 15 petabytes of memory. Together, the cluster can enable up to 7.625 petaflops of computing power, Aleph Alpha said. That puts alpha ONE at No. 72 on the list of the top 500 fastest supercomputers in the world. The data center was built together with Hewlett Packard Enterprise (HPE) and Nvidia.
Ad
Join our community
Join the DECODER community on Discord, Reddit or Twitter - we can't wait to meet you.
Ad
Join our community
Join the DECODER community on Discord, Reddit or Twitter - we can't wait to meet you.
"Building and operating a modern data center of this dimension required special expertise. We are pleased to have built one of the world's most powerful AI data centers in Germany and to be making a significant contribution to technology sovereignty, especially in public administration," said Jonas Andrulis, CEO, and founder of Aleph Alpha.