Auto-GPT is still in its early stages, but the Python project provides a glimpse of a future where AI assistants perform tasks in an automated way.
Auto-GPT is a currently very popular open-source project by a developer under the pseudonym Significant Gravitas and is based on GPT-3.5 or GPT-4. It chains "thoughts" to achieve a given goal autonomously.
So instead of having to think about what steps to take, as with ChatGPT, with Auto-GPT you just specify a goal to reach. The AI will then find its own way there.
Just a few days or weeks after the release of Auto-GPT, many examples can be found on the Internet that demonstrate the possibilities of such automated systems. We have put together a selection of the most interesting projects.
Using Auto-GPT in the browser
Running Auto-GPT on your own computer is not trivial and not entirely harmless, and should only be done in a virtual machine. If you don't want to install it, there are several web services where you can safely try out Auto-GPT.
At agentgpt.reworkd.ai you can even try Auto-GPT without registering and for free, but a separate OpenAI API key is required for long-term use.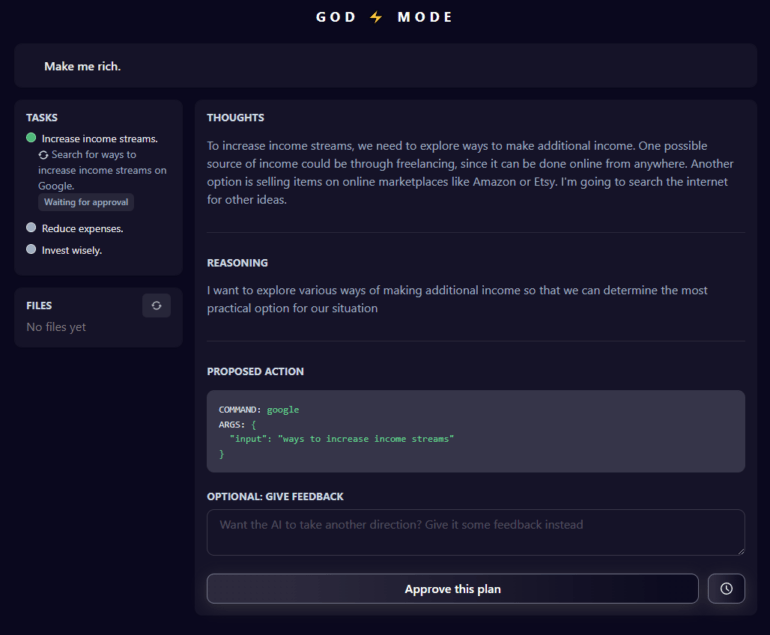 Such a key is required on godmode.space from the beginning. Here, each step can be reviewed and manually initiated to prevent the AI from creating unnecessary costs.
Design web page
An obvious application of Auto-GPT is the creation of a website. This also works with "pure" GPT-3.5 or GPT-4, but with Auto-GPT the AI is able to perform much more complex tasks with a single prompt. This is because Auto-GPT can search the Internet for sources and sample code and use them during development.
Had AutoGPT make me a more complicated website, from scratch this time:

it:
- created login/sign up page
- styled it with bootstrap
- created flask api for login / logout
- created a local json database

Took ~10 minutes at a cost of $0.50. More examples coming pic.twitter.com/iwU16vjsRh

— Sully (@SullyOmarr) April 8, 2023
Without Auto-GPT, this result would have required much more user intervention.
A to-do list that checks itself off
Garrett Scott has turned Auto-GPT into a commercial product in a short time, but it is not yet accessible without a queue. The "Do Anything Machine" is a to-do list that launches another GPT-4 agent to take care of the task each time a new task is added.
The advantage, Scott says, is that the service is connected to all the necessary services and remembers information about your company, so you do not have to re-enter it each time.
Over the weekend I finished the to-do list that does itself.

Everytime you add a task, a GPT-4 agent is spawned to complete it. It already has the context it needs on you and your company, and has access to your apps.

It's called the Do Anything Machine (Link in thread) pic.twitter.com/4Mn7cf67va

— Garrett Scott 🕳 (@thegarrettscott) April 11, 2023
Researching for newsletters, podcasts, and the like
James Baker has also recognized the potential of Auto-GPT for his own use, primarily for the ability to do independent research on the Internet. This would be useful for a wide range of users, especially those who create content - in whatever form.
For example, unlike ChatGPT, the AI could be used even more effectively to create detailed scripts for a podcast or newsletter, including sources. Here, according to the developer, Baker's solution is more accurate than, say, Bing with GPT-4, because it learns and improves from task to task.
Ad
Join our community
Join the DECODER community on Discord, Reddit or Twitter - we can't wait to meet you.
Ad
Join our community
Join the DECODER community on Discord, Reddit or Twitter - we can't wait to meet you.
AutoGPT for research✍️. Search the web to learn and write on any topic.

1) Write a podcast script, article, or lit review
2) Learn about any topic faster
3) Much more

App releasing next Sunday! 🧵(1/2) pic.twitter.com/UYpalVLJEq

— JB (@jamesbbaker4) April 24, 2023
Create market overview
In general, Auto-GPT seems to be a great tool for professional users in marketing. For example, Sully Omarr demonstrates the possibilities of creating a market overview for waterproof shoes. In no time, Auto-GPT lists the top five manufacturers in this field.
The AI can also extract the pros and cons from a large number of reviews. In the end, it took eight minutes and ten cents to create a detailed report on the waterproof shoe market.
The result?

A pretty detailed report of the top 5 waterproof shoes companies, with their pros, cons and a nice conclusion summarizing the report.

Oh and it only took 8 minutes, at a cost of 10 cents.

This was a pretty basic example too. Entirely unoptimized. pic.twitter.com/MZHvmf6tRP

— Sully (@SullyOmarr) April 9, 2023