Google is currently experimenting with integrating AI more deeply into search. AI-generated images and documents will soon be available in Google Search.
For example, if you type "Draw a picture of a capybara wearing a chef's hat and making breakfast" into the search bar, four AI-generated images will appear as AI-generated search results.
The description of the generated images can then be further specified to refine the final result. This chat-focused creation process is also the focus of OpenAI's DALL-E 3, or more specifically, the new image capabilities of ChatGPT.
This is Google's way of filling a gap for very specific image ideas that are not part of the classic image search. Speaking of which, the AI generator will also be prominently placed here, allowing users to create an image from their query with a single click.
The feature is designed to pop up when users search for inspiration, such as "minimalist Halloween table decorations" or "spooky doghouse ideas".
AI texts and letter drafts in Google Search
Google is also planning innovations in text generation. As users research a topic, AI can create draft text, such as letters or notes, that can be customized in tone and then exported to Google Docs or Gmail.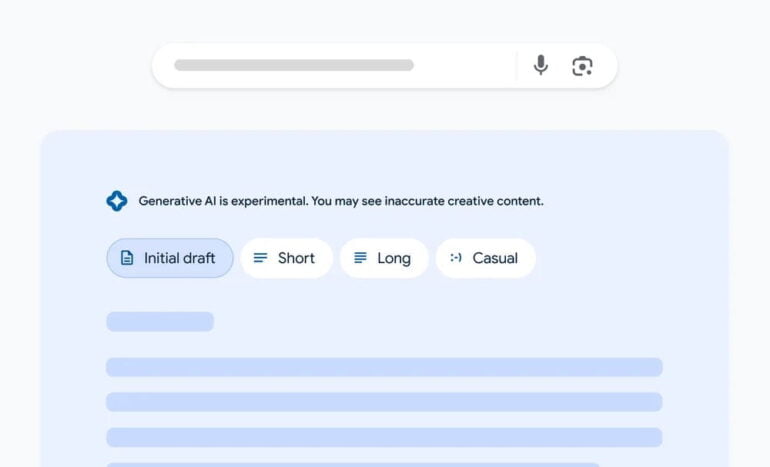 Responsible AI use promised
Google emphasizes that it wants to integrate AI into search responsibly and announces metadata specifically for AI-generated images.
The two new features are initially only available in English in the US and only to a small group of users participating in the SGE experiment. The AI image generator has an initial minimum age requirement of 18.
The US Internet giant is currently investing heavily in its AI division. This fall, Google will launch the Gemini multimodal model, Bard is being more deeply integrated into the Google ecosystem, and the Pixel 8 smartphones are also optimized for generative AI capabilities, the company claims.
With the expansion of the tools into the core search product, hundreds of millions of people around the world are likely to be exposed to generative AI over the long term, whether they like it or not.
However, Google will also need to address the high cost of generative AI if it wants to scale AI for billions of search queries per day. Google is likely to move only as fast as the competition from Microsoft and OpenAI's new chatbot offerings requires.
Ad
Join our community
Join the DECODER community on Discord, Reddit or Twitter - we can't wait to meet you.
Ad
Join our community
Join the DECODER community on Discord, Reddit or Twitter - we can't wait to meet you.