Just a few weeks ago, OpenAI CEO Sam Altman said that ChatGPT should not be used "for anything important". But that's precisely what's happening, and the new API is driving adoption of ChatGPT.
About three months after the launch of ChatGPT, OpenAI made an API available to developers. The company took a similar approach with GPT-3 and DALL-E 2.
Although there have been workarounds for developers to integrate ChatGPT into their products, the official API makes it much easier. This, combined with the dynamic development of the AI market, has led to the rapid emergence of numerous ChatGPT applications. Here are a few examples.
Slack: AI conversation with colleagues
One of the first software applications to get a ChatGPT integration is the business messaging platform Slack. AI helps you compose messages to colleagues: ChatGPT suggests text that can be customized as needed. In addition, AI can summarize entire channels or individual discussion threads if you lose track.
The feature is currently in a closed beta test, and OpenAI is accepting applications. Similar features will soon make their way into Slack competitor Microsoft Teams.
ChatPDF: Chat with PDFs
If a document is available as a PDF, you can chat about it in natural language using the chatpdf.com website.
This can be useful with whole books, handouts, presentations or scientific articles to extract specific information faster.
Currently the maximum number of pages is limited to 120. If you need more, you need to get your own API key from ChatGPT. Otherwise, the service is ad-free and free of charge.
The uploaded data is stored confidentially "in a secure cloud storage" and deleted after seven days.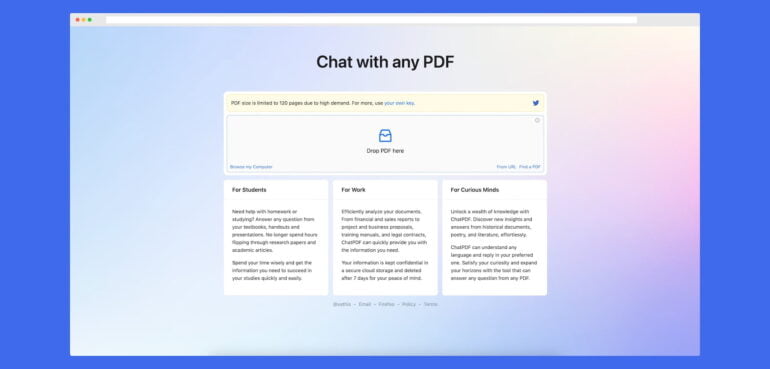 WriteMage: ChatGPT in macOS and iOS
WriteMage brings access to ChatGPT to the system level. It is available for both iOS and MacOS. On MacOS, the AI window opens via a hotkey, on the iPhone, WriteMage is integrated as a separate software keyboard.
The main advantage is that WriteMage can interact with highlighted content on the screen. It does not matter from which application the text comes. Similar to ChatGPT in the browser, WriteMage has a memory and can access previous conversations. Previous chats are stored in a history.
Currently, WriteMage is free, but soon the paywall will come down, with monthly, annual and unlimited licenses starting at $10 per month.
My AI is an AI friend in your Snapchat app
ChatGPT aka "My AI" fits seamlessly into the series of conversations with friends on the Snapchat messenger. According to Snapchat CEO Evan Spiegel, in the future we will not only talk to our friends and family every day, but also to AI. So, this is like a first test run.
Ad
Join our community
Join the DECODER community on Discord, Reddit or Twitter - we can't wait to meet you.
Ad
Join our community
Join the DECODER community on Discord, Reddit or Twitter - we can't wait to meet you.
In principle, My AI on Snapchat is just an alternative to the browser window, but the AI is even more limited in what it can talk about. For example, it can't discuss controversial or explicit content, nor can it formulate academic papers that would help with homework. But that didn't stop it from suggesting that it would be a good idea for a 13-year-old to date a 31-year-old.
My AI is currently only available to paying Snapchat Plus customers (starting at $4.50).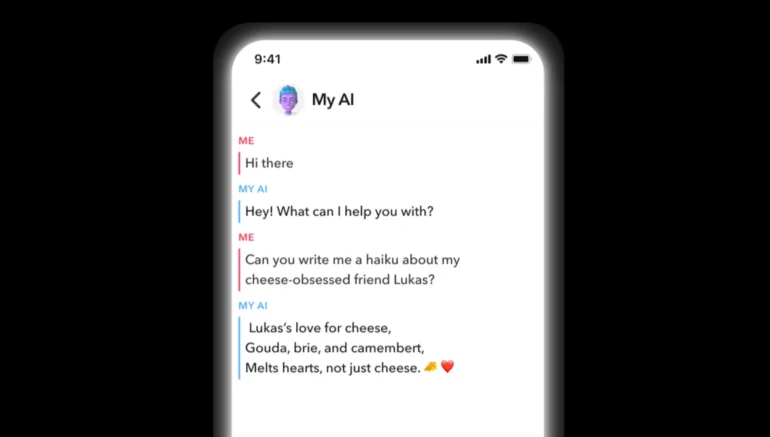 Shopify: Get personalized product advice
The e-commerce platform Shopify integrates ChatGPT into its smartphone app Shop. The AI is designed to help users select products. After the topic has been roughly formulated, the chatbot asks further questions to narrow down the product selection. A few messages later, the AI will suggest different products from the full range of Shopify's stores.
ChatSpot: AI chat for HubSpot
HubSpot is one of the world's most popular CRM solutions. Co-founder and CTO Dharmesh Shah has now announced a ChatGPT integration called ChatSpot. This makes it possible to extract information from the system and modify the record using only natural language input. ChatSpot will soon be available in a first alpha version.
Quizlet: Personal AI tutoring
Quizlet is expanding its services through ChatGPT with a new "personal learning coach" called Q-Chat. It draws on Quizlet's extensive library and uses the Socratic method of questioning. The bot is designed to ask deeper questions to ensure students understand the underlying concepts, rather than just testing for surface-level knowledge. Quizlet is currently in beta for users 18 and older in the US.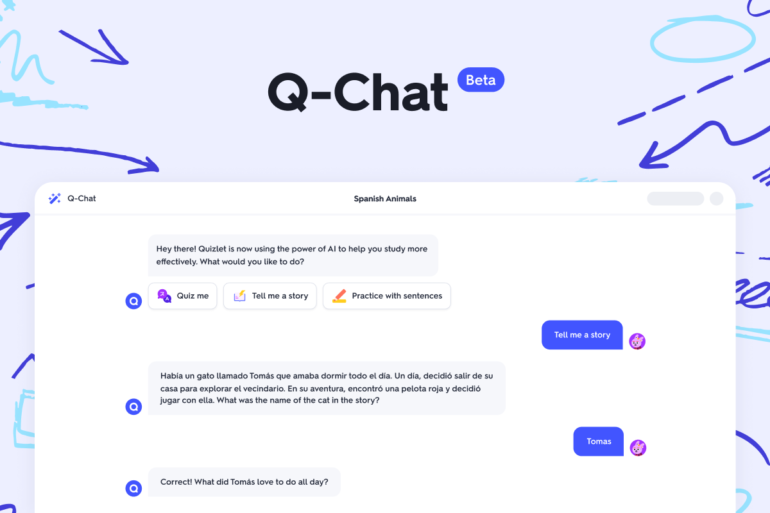 ChatGPT still has issues
Most companies pre-test their ChatGPT integration on a small scale. This is because the language model can sometimes output incorrect information. This is why OpenAI CEO Sam Altman warned in December 2022 against using ChatGPT for important things - but that is exactly what is happening now, led by Microsoft with Bing.
That's why the ChatGPT API is so interesting: these early integrations will show whether AI language systems in their current form are helpful enough to deliver long-term productivity gains beyond occasional typing assistance and brainstorming.