Cut costs, boost productivity: Microsoft promises AI benefits for its Teams meeting platform.
Following its recent billion-dollar investment in OpenAI, Microsoft is further integrating the startup's AI technology into its products: Microsoft Teams is getting GPT 3.5, the model behind the successful ChatGPT.
Microsoft is marketing the AI version of the software as "Microsoft Teams Premium" and charging $10 per month. At launch, the service will be priced at $7 per month for a limited time.
AI for meeting summaries
With "intelligent recap," Teams AI will automatically insert chapters into meeting minutes, generate meeting notes, recommend tasks, and offer personalized highlighting. This is how Microsoft hopes to use AI to make meetings more efficient.
AI-generated chapters can automatically divide a meeting into chapters, also based on the meeting transcript. According to Microsoft, this helps reduce the amount of time it takes to catch up on a missed meeting. This feature is now available for PowerPoint Live meeting recordings.
Another intelligent recap feature is personalized timeline markers. They show when you entered and left a meeting and, in the future, will show when each person spoke. You will also be able to see when your name was mentioned based on the markers.
Automatic notes and live translations
GPT 3.5's auto-generated notes are designed to summarize the most important points and takeaways from a meeting, so you no longer have to worry about taking notes, according to Microsoft. From these notes, the software derives and suggests tasks and action items. These new AI texting features are planned for the second quarter of 2023.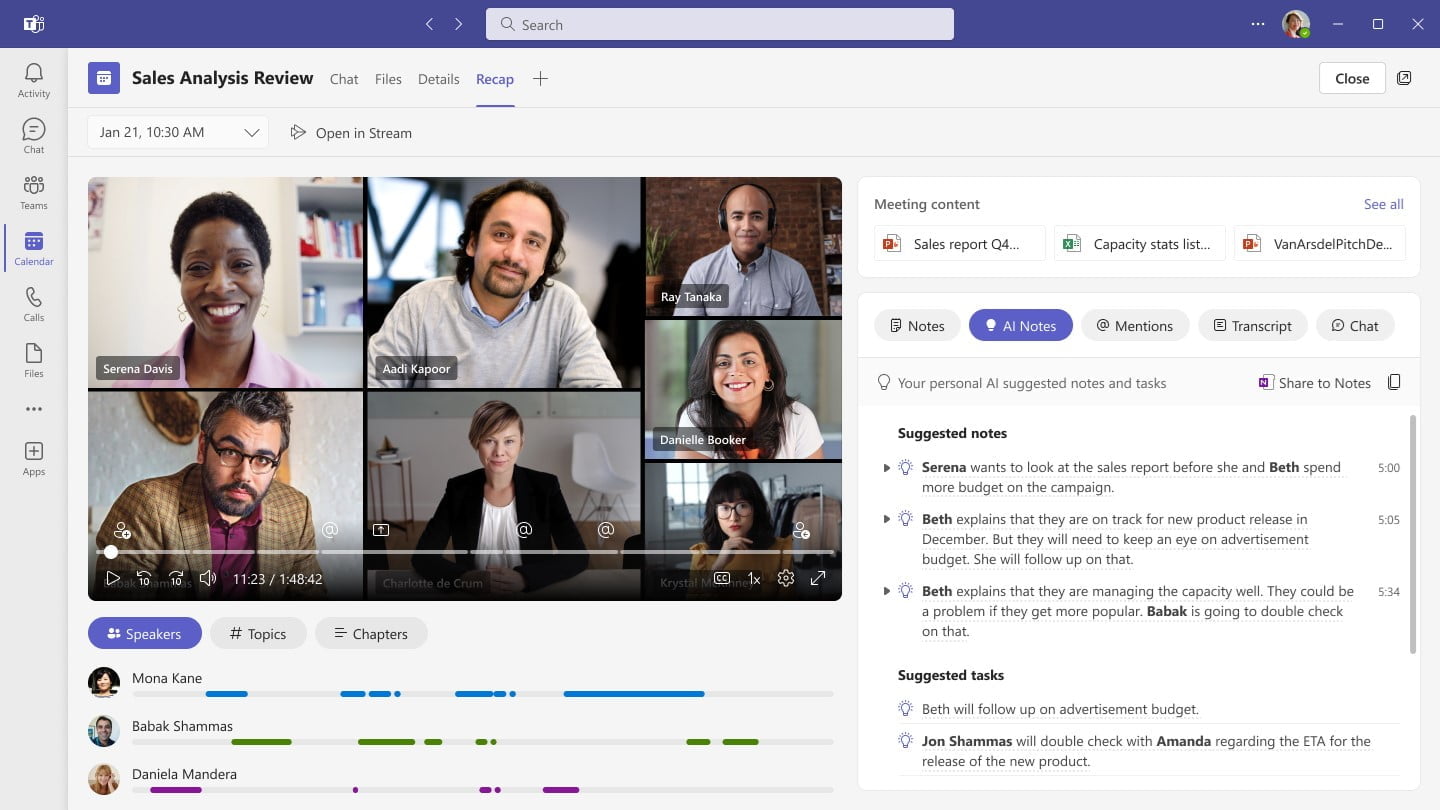 Already available are live translations for captions, which are also generated by AI, according to Microsoft. Employees can read captions in their preferred language. The captions themselves are also AI-generated and live. For live translations, only the meeting organizer needs to have Teams Premium.
Microsoft is also rumored to be planning to integrate GPT-4 as a chatbot into Bing Search and launch ChatGPT as a mobile app. The new Bing Search is expected to roll out in the upcoming weeks.
Ad
Join our community
Join the DECODER community on Discord, Reddit or Twitter - we can't wait to meet you.
Ad
Join our community
Join the DECODER community on Discord, Reddit or Twitter - we can't wait to meet you.