Shutterstock is cooperating with OpenAI. Now the stock database is releasing a platform for the AI generation of images.
In October, Shutterstock and OpenAI partnered to integrate DALL-E 2 into the company's creative tools. Today, Shutterstock released the AI image generation platform. It is available to all users and the images generated can be used under license.
According to Shutterstock, the tool was developed with an "ethical approach and uses a library of assets that authentically represent the world we live in. Shutterstock also recognizes the artists' contributions to the generative content by paying royalties for the intellectual property used to develop the models and for the ongoing licensing of the content."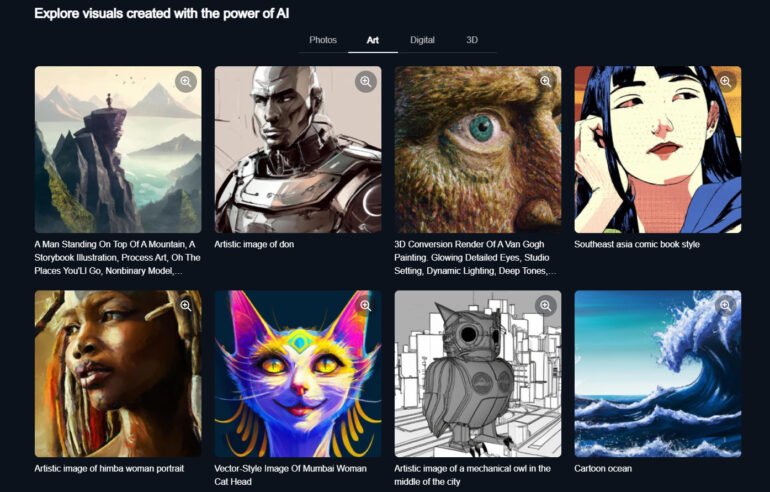 Unlike other platforms, Shutterstock's AI model generates varied images even when only one word or short phrase is entered, the company says. The generated images can also be edited directly on the platform.
Shutterstock compensates artists, the company said
"Shutterstock is the first company to support a responsible AI generation model that pays artists for their contributions," the company said. It also said it has taken steps to avoid bias that may be present in some datasets. It also continues to look for ways to fairly represent underrepresented groups.
Shutterstock did not provide details of the model used. Presumably, the company is using a variant of OpenAI's DALL-E 2, which has been specially trained for its own purposes. The platform is available from Shutterstock AI.
Original article from October 25, 2022
Shutterstock takes a clear stance on AI-generated images, but doesn't want to scare away artists. Will this balancing act succeed?
The stock image platform Shutterstock and OpenAI are entering into a partnership: OpenAI's image AI DALL-E 2 will be integrated into the Shutterstock platform in the coming months.
Users of the Shutterstock website will have direct access to the program and should be able to "improve their creative workflow," according to Shutterstock. Details are not yet known, but Shutterstock is using OpenAI's recently announced DALL-E 2 API. The offer is valid worldwide.
AI stock: Shutterstock bucks the trend
Shutterstock's commitment to AI images follows Getty Image's departure from them. The latter company justified the decision with unresolved copyright issues on images used for AI training.
Previously, online image and art platforms Fur Affinity, Newgrounds, and Inkblot had banned AI images from their platforms, siding with many artists who have protested AI image generators in recent months over potential copyright infringement and other concerns, such as the devaluation of human creativity.
Shutterstock wants to compensate artists
Shutterstock is aware that its collaboration with OpenAI will be viewed critically in the art and design world, and along with the integration of DALL-E 2, is announcing a fund for artists whose Shutterstock images were used for DALL-E 2's AI training.
Ad
Join our community
Join the DECODER community on Discord, Reddit or Twitter - we can't wait to meet you.
Ad
Join our community
Join the DECODER community on Discord, Reddit or Twitter - we can't wait to meet you.
Shutterstock's position is that ownership of AI-generated content cannot be assigned to an individual. Instead, compensation must be paid to the artist collective whose content is involved in the creation of each new piece of AI content.
"The mediums to express creativity are constantly evolving and expanding. We recognize that it is our great responsibility to embrace this evolution and to ensure that the generative technology that drives innovation is grounded in ethical practices," said Paul Hennessy, Chief Executive Officer at Shutterstock.
Under the compensation model, artists whose content is used to train AI models receive a share of revenue from the sale of datasets and licensing of AI content generated at Shutterstock.
The amount of the share is based on the amount of images and metadata used for the training datasets provided by Shutterstock. Shutterstock has been selling images and metadata to OpenAI since 2021.
"The data we licensed from Shutterstock was critical to the training of DALL-E," said Sam Altman, OpenAI's CEO.
Other AI generators are excluded
AI images not created with DALL-E 2 can no longer be sold on Shutterstock. This is a good thing for the image platform in two ways: it puts focus on its DALL-E 2 integration. At the same time, it can avoid copyright criticism related to training datasets from other image AIs like Stable Diffusion.
However, there is also much more training data in DALL-E 2 than Shutterstock's. OpenAI could perhaps provide Shutterstock with its own model to address this criticism as well.
In the PR content accompanying the collaboration, Shutterstock also addresses how AI image generators can support artists in their creative work. OpenAI CEO Altman likewise sees AI as an "integral part of artists' creative workflows." However, Altman also said a few weeks ago that "it's important to be honest" when it comes to the potential impact of DALL-E 2 on the creative jobs market.
Another aspect that platforms like Shutterstock need to consider: If they do not offer AI images on their platform, other platform providers will enter the scene that focus on this area and may grow quickly. One example of this is the website Stock AI.